On friday, we spent the extra money and went to Paradise Island! It was a LONG bus trip from our resort to the beach where we would take a speedboat out to the island, but it was worth it. Even if we did get sick. It was fun to drive around the island and see how the people there really live. After a couple of hours, we finally arrived on the beach and put on some really smelly life jackets.


We climbed in the boat and road a a ways out to the island. Sorry we don't have any pictures from that! But on our way out...some HUGE storm clouds came and decided to rain on us:( Fortunately, we were in our swim suits! We got to Paradise Island, which is essentially just a sand bar in the middle of the sea, with only some man made huts on them. Not even a single tree! We ate some fresh pineapple and relaxed for a bit before out snorkeling adventure. But here is a picture of the island where Columbus first landed when we came sailing this way:) The tourists call is Paradise Island, but the natives call it isle de isabela.


We brought an underwater camera with us, so we have those pictures, but we forgot to bring a regular camera too! We ran out of pictures while we were still snorkeling and didn't get pictures of everything we wanted to, but these ones are still fun. Here they are!


I have a few things to say about these pictures. They were alot more colorful in person. These underwater cameras don't do them justice. Also, we discovered that these cameras are hard to aim when you are wearing gigantic goggles on your face!

Anyway, while snorkeling, we were able to bring out some bread with us to feed the fish! They ate right out of my hands until I screamed underwater and had to come up for air:) I am such a baby! But Scott did so much better. Here are the schools of fish we fed.


When we finally left the island, the boat took us along the coast of the Dominican Republic to see the mangroves! Those things are cool! One time, while watching Man VS. Wild, we watched Bear Grylls chop his way threw those things. It was a crazy episode! And we got to see them in person:)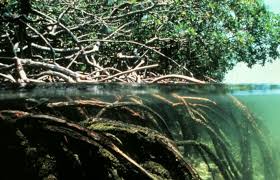 We got back to the main island, ate lunch in a little restaurant, and headed back on another long bus ride back to the resort. It was a fun trip out to Paradise Island, but we were tired, and ready to eat at a Mexican restuarant, El Zorro, that night. We showered and dressed up for dinner, which was delicious. They had the most amazing dessert too! We shared a churro, but not the typical churro you find in the states. It didn't have cinnamon on it, but rather the most delicious chocolate sauce and pudding that we have ever had. It was to die for! It rained again while we were eating dinner. That was fun, because all of the restaurants aren't closed in. They have roofs and small fences, but other than that, it's more like a pavilion to eat under. So we had a romantic dinner in the rain.



Even though it rained off and on all day, we still had a great time and are glad we were there.